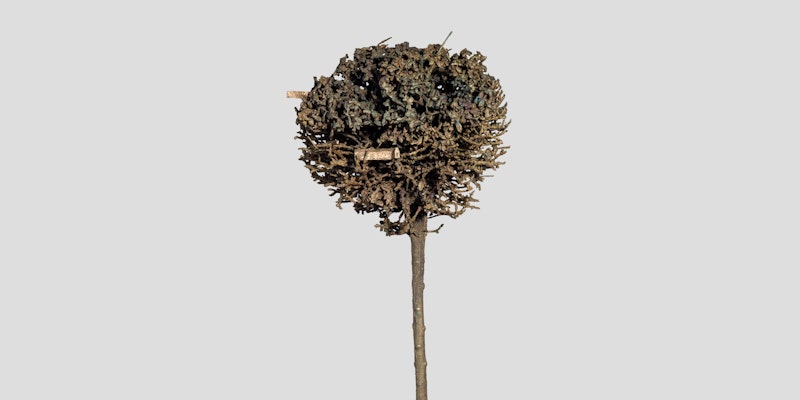 The OAS AMA | Art Museums of the Americas proudly presents, a sculpture by John Antone, on view in the OAS AMA's loggia from May 18-September 1. Antone's work mixes bronze and plaster-casted tree branches and leaves, addressing connections between people and their environments.
As part of the OAS's Secretariat of Hemispheric Affairs, AMA aims to highlight the four OAS pillars-- democracy, human rights, security, and development—through the visual arts of its member countries. An outstanding artist of the United States, John Antone returns to the OAS 24 years after his solo exhibition "Grassman" at the OAS AMA Sculpture Garden first turned heads. He also participated in the Washington Sculpture Group exhibition Across Borders / Sin Fronteras that showed at the AMA in 1994. His deeply personal works are connected with the surrealistic fragments of dreams. With "Environmental Tree," Antone continues to expound on his classic trope of birthing sculpture as "a process that starts to make dreams become reality." He finds harmony between the natural world and human beings' internal mechanisms. "Environmental Tree" sources human dreamscapes to speak more outwardly to concerns of humanity's footprint on our planet and sustainable development, critical concerns of the OAS and the international community. According to Antone, "peace, harmony and freedom are awaiting for us to discover in each other and our world through contemplation of what is beautiful."
Based in the United States and Europe, John D. Antone's sculpture is collected internationally. He is from a family of artists and artists at heart. Born in Washington, DC, he majored in sculpture at Virginia Commonwealth University. Antone recevied a full scholarship for graduate study at California Institute of the Arts. He has exhibited in galleries throughout Europe and the United States, most recently at Atelje Galerija (Slovenia) and Stefan Bartsch (Munich). He was the first US-based artist invited to at the European Commission's international cultural programs in Brussels. Grant honors include: CEC ArtsLink Fellowship, Virginia Museum Foundation Professional Fellowship and a Fulbright Grant arranged by the US Department of State. Antone was an artist in residence in Paris at Cite des Arts in 2016.