MAY 2017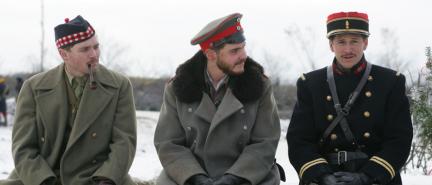 The Cultural Services of the French Embassy are pleased to announce the French cultural events that will be presented in Washington, DC and its consular district this month.
CINEMA
1917 Centennial

May 9 & 23
Embassy of France - La Maison Française

Merry Christmas
by Christian Carion
2005 - France - 115 min
May 9 | 7:00 p.m

This film is inspired by a true story that took place during WWI, on Christmas Eve 1914, at many places along the front lines.
When the war broke out during the summer of 1914, millions of men were taken by surprise and caught up in the ensuing maelstrom. And then Christmas arrived, with its snow and its stream of gifts from back home and from the army brass. But the surprise wasn't to be found in the generous parcels that littered the trenches.
On this particular evening, a major event was to have a lasting effect on the destiny of four characters: a Scottish minister, a French lieutenant, a German tenor, and a Danish soprano. These stars of the era find themselves at the heart of an unprecedented fraternizing between soldiers from the German, French and British trenches. All will put down their guns and leave their trenches behind as they go to meet the enemy, shake his hand and exchange cigarettes or chocolates, and wish him Merry Christmas.

Adama
by Simon Rouby
2015 - France - 85 min
May 23 | 7:00 p.m

Twelve-year-old Adama lives in a remote village in Western Africa. Beyond the cliffs, the World of Breaths can be found, where the Nassaras reign.
One night, Samba, his older brother, disappears.
Defying the laws of the elders, Adama decides to set out to find him.
With the unwavering determination of a child becoming a man, he launches into a quest that will take him beyond the seas, to the North, to the front lines of World War One.
It is 1916.

In French with English subtitles.

Online registration is required for these free admission screenings.
The French Cinémathèque at the Avalon Theatre Presents: The Country Doctor

May 17 | 8:00 p.m
Avalon Theater

The monthly French Cinémathèque series at the Avalon Theatre, in partnership with the Cultural Services of the French Embassy, presents the screening of the film The Country Doctor by Thomas Lilti.

Rolling off Hippocrates, which world premiered at the Cannes' Critics' Week to warm reviews, doctor-turned-filmmaker Thomas Lilti delves once again into the medical world with The Country Doctor. The social dramedy stars Francois Cluzet (Intouchables) as a devoted and revered countryside doctor whose life gets rocked by a middle-age woman who has come from the city hospital to earn her chops (Marianne Denicourt). Challenging each other with opposite views on medicine, the pair eventually bonds and learns from one another.

In French with English subtitles.

For more information and ticket reservations, please click here.
Washington Jewish Film Festival

May 17 - May 28, 2017

The WJFF is back for its 27th edition running May 17-28. This year's lineup features a brand new lineup of international cinema – from heart-tugging romances and sidesplitting comedies, to fast-paced thrillers and insightful documentaries. The Festival features a robust French Cinema lineup including French comedy-drama Dad in Training, suspenseful thriller Thank You For Calling, and Festival Closing Night film Fanny's Journey.

Browse the full lineup here.
PERFORMING ARTS
Washington Opera Society presents: La Cenerentola

May 18 | 8 p.m.
Embassy of France - La Maison Française

Under the patronage of H.E. Ambassador Gérard Araud, the Washington Opera Society presents La Cenerentola (Cinderella) by Rossini.

Featuring
Magdalena Wór in the title role
and Timothy Augustin as Prince Ramiro
with
Elizabeth Treat, Gustavo Ahualli, Anamer Castrello, & Kwangkyu Lee
Leading an all-star cast
Conducted by Maestro Julien Benichou
Narrations by Dr. Scott Beard
May 10 - June 18, 2017
Studio Theatre

André is 80 and a man of his own mind. He's quick with a joke, especially one with an edge, and used to dominating conversations and relationships. But things are getting strange: His trusted watch goes missing, reappears, and is lost again. His daughter's stories don't quite add up. His furniture is disappearing and there are strangers at his table. The incomparable Ted van Griethuysen stars in Florian Zeller's internationally acclaimed and theatrically thrilling exploration of who we are to ourselves when our signposts disappear.

Written by Florian Zeller
Translated by Christopher Hampton
Directed by David Muse

For more information and ticket reservations, please click here.
VISUAL ARTS
America Collects Eighteenth-Century French Painting

May 21 - August 20, 2017
National Gallery of Art - West Building

When Joseph Bonaparte, elder brother of Napoleon, arrived in the United States in 1815, he brought with him his exquisite collection of eighteenth-century French paintings. Put on public view, the works caused a sensation, and a new American taste for French art was born. Over the decades, appreciation of French eighteenth-century art has fluctuated between preference for the alluring decorative canvases of rococo artists such as François Boucher and Jean Honoré Fragonard to admiration for the sober neoclassicism championed by Jacques Louis David and his pupils. This exhibition brings together sixty-eight paintings that represent some of the best and most unusual examples of French art of that era held by American museums and tells their stories on a national stage.

The exhibition highlights smaller museum collections, less well-known paintings, and diverse locations across the United States, from Pittsburgh and Indianapolis to Birmingham and Phoenix.

The exhibition is organized by the National Gallery of Art, Washington.
Yves Saint-Laurent: The Perfection of Style

May 6 - August 27, 2017
Virginia Museum of Fine Arts
Richmond, VA

The energetic sights and sounds of the fashion runway come to the Virginia Museum of Fine Arts this spring with Yves Saint Laurent: The Perfection of Style. Drawn from the archives of the Fondation Pierre Bergé—Yves Saint Laurent and other private collections, this breathtaking exhibition offers an intimate and comprehensive look at the lifetime achievement of Yves Saint Laurent, one of history's most radical and influential fashion designers. Featuring 100 examples of haute couture and ready-to-wear garments—some never shown publicly before—this exhibition reveals Saint Laurent's artistic genius, as well as his working process, and the sources of his design inspiration.

VMFA is the only East Coast venue for the exhibition, which has been organized by the Seattle Art Museum in partnership with the Fondation Pierre Bergé – Yves Saint Laurent in Paris.

Symposium: France in the White House

May 4, 2017
Decatur House
By the White House Historical Association

For over two hundred years France and the United States have enjoyed a relationship unparalleled in world history. Forged in the Revolutionary War, when French intervention helped to secure American independence, and confirmed in World Wars I and II, when American soldiers helped to liberate France, the alliance has endured throughout the ages. Beyond these times of war the French and American people have also interacted through art, philosophy and more to create a shared culture often symbolized in our nation's capital, the White House, and the lives of American presidents.

The White House Historical Association, together with the Embassy of France, is highlighting this remarkable historic relationship by organizing a full-day symposium, culinary experience, and cultural event. France in the White House: A Conversation on Historical Perspectives, the second of a series of internationally themed symposia planned through 2018, will be held on May 4, 2017 at the Association's historic property adjacent to the White House in Lafayette Square.

This symposium is organized by the White House Historical Association in partnership with the Embassy of France.
"A first-rate collection:" Rodin at the National Gallery

May 5 | 1:00 p.m.
National Gallery of Art - East Building Auditorium

Lecture by Antoinette Le Normand-Romain, Edmond J. Safra Visiting Professor, Center for Advanced Study in the Visual Arts, National Gallery of Art

The Simpson Collection at the National Gallery of Art is one of the few remaining private collections assembled with the participation of artist Auguste Rodin (1840-1917). The centenary of Rodin's death offers an occasion to examine the large number of works that Katherine Seney Simpson and John W. Simpson, the first American collectors to meet Rodin, gave to the Gallery in 1942. In this lecture on May 5, 2017, Antoinette Le Normand-Romain provides an overview of the Simpson collection of drawings and sculptures in bronze, marble, terracotta, and plaster, including Rodin's portrait of Mrs. Simpson. The Gallery has benefitted since from the generosity of other donors, helping to build, as Yale University art historian Charles Seymour Jr. stated, "a first-rate collection" of works by Rodin.
EUROPEAN MONTH OF CULTURE
May 13 | 10 a.m. - 4 p.m.
Embassies of the European Union member states and Delegation of the European Union

On May 13th, the European Union Embassies and the EU Delegation to the United States will open their doors to the public for the annual EU Embassies' Open House: a day of family fun, food, culture and more. The event offers visitors a rare look inside the embassies and provides a unique opportunity for them to experience the cultural heritage and national traditions of the 28 member countries.

Visit France at the German Embassy, 4645 Reservoir Road, NW!